IMPAXX™
Stable & Consistent Energy Absorbing Foam
IMPAXX™ is the most efficient and effective energy management material in the automotive industry today. The energy absorption performance of IMPAXX™ across applications, combined with its significantly lighter weight and precision cutting standards makes it the premier energy-management solution for the automotive industry.
Lose Weight & Increase Passenger Safety
With each year, standards and concerns for passenger safety grow, and Coastal Automotive provides the solutions you need to stay in step with that growth. IMPAXX™ provides the highest possible efficiency among energy absorption (EA) countermeasures, significantly outperforming its peers in the industry in terms of weight-to-performance ratios by as much as 91%.  This becomes especially important as weight-reduction is directly related to improving EV range in a competitive market.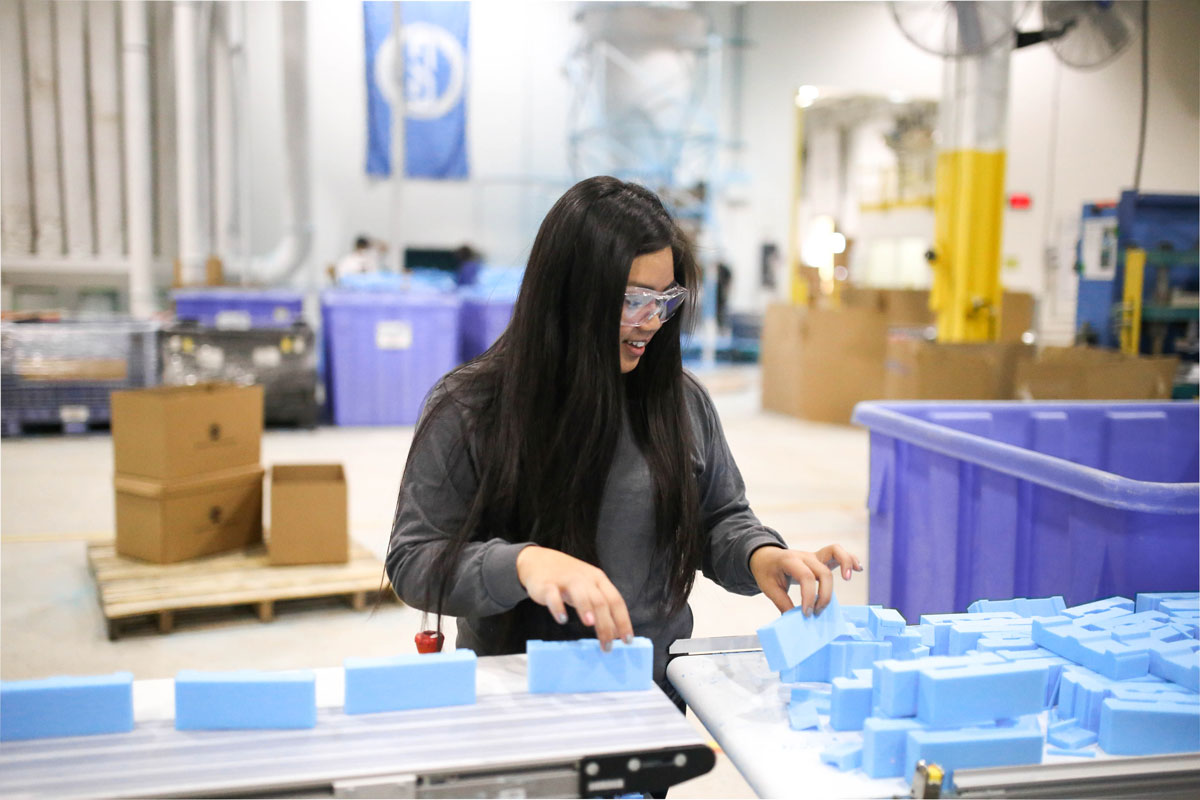 Compliance & Standards
Customers rely on IMPAXX™ to meet demanding compliance requirements, including those from the National Highway Traffic Safety Administration (NHTSA) and United Nations Economic Commission for Europe (UNECE). And we're constantly working to develop the most innovative solutions to ever-changing energy management needs.
You'll find IMPAXX™ products in the headliners, doors, headrests and instrument panels for hundreds of the world's top-selling cars and trucks. Applications include (but aren't limited to):
Headliners and pillar trims as head-impact countermeasures
Lower interior front and rear-door side-impact countermeasures
Steering columns and instrument panels
Under-carpet energy management systems
Bumper and seating systems
$0 Tooling Expenses
Lower costs of development and capital investment on tooling
Precision Cutting
CNC wire cutting for tight tolerances and exact standards
Lower Weight
Up to 91% lower weight than competitors
Lower Packing Space
Make room for improved passenger comfort
Meeting Standards
Lower weight helps meet Corporate Average Fuel Economy and CO² standards
Consistent performance
From prototype to production & at a complete range of operating temps
Improved performance
Outperforms EPP bead foams, PU foams, and thermoformed plastic parts
Fast Cycle Times & Flexibility
No tooling means you go from concept to production in days.
Multiple Assembly Methods
Including advanced nest, pressure sensitive adhesive & mechanical attachment
Trusted by NASCAR
IMPAXX™ is the trusted energy-absorption material of NASCAR for driver safety. Learn more about how NASCAR uses IMPAXX™ in vehicles as attenuators (entrance to pit row) to protect drivers.
Sustainable & Recyclable
Since our founding, we've made sustainability a central focus of our manufacturing processes. IMPAXX™ is a highly engineered extruded polystyrene (XPS) foam, which can be recycled for several different applications.


Material suppliers manufacture IMPAXX™ foam for Coastal Automotive.
Coastal Automotive utilizes IMPAXX™ to manufacture energy management solutions.
100% of unusable foam or scrap from our manufacturing process is collected and shipped to our recycling partners.
Our recycling partners use the recycled material to make other polystyrene-based products.
Technical Data Sheet
Download the IMPAXX™ Technical Data Sheet for details on ASTM test results, temperature performance and cutting profiles.
Energy Absorption
IMPAXX™ foam is over 90% efficient at absorbing energy, providing energy dissipation through 70% of strain. Competing materials start decreasing efficiency at 25-30% when they start to rebound, transferring the stored energy back to the occupant.
Let's Get Started
Contact us to learn more about how IMPAXX™ might be right for your next energy-management challenge or request product samples, material cards and additional information.